Announcing New Covert Bible!
For Christians at risk, the new Covert KJV App provides a handy Bible reference that can be hidden underneath a calculator interface!

Covert World Net (Calculator)

On top of the World Net KJV, a Calculator app provides additional utility as well as cover when the user must conceal Bible related activities.
KING JAMES BIBLE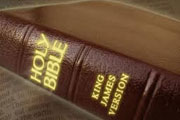 The mobile KJV Holy Bible is a digital version of the 1769 standardized text revision of the 1611 King James Bible, also known as the AV or the Authorized Version. Developed for your Android OS mobile phone or tablet, it is a powerful and easy to use tool that provides access to search, annotate, bookmark and study the Holy Bible. The standardized text of 1769 is published by Cambridge University Press, Oxford University Press, Collins, etc.
Features include:
Easy search to find passages containing specific words, word combinations or word fragments.
Long-press a specific passage to bookmark it, add footnotes or color-code highlight for later study.
Easily navigate to any book, chapter and verse in seconds, in Bible order or alphabetically.
Convenient text-to-speech and auto scrolling.
This application is provided to you 100% free of charge and will not annoy you with advertising or ever collect your personal information. There are absolutely no strings attached! If you feel inspired to donate to us then we will gratefully accept your gift. If you don't, please just enjoy our gift to you and please share it with others. The application "Spread the Word" button located at the bottom of the "More" section displays a QR code to allow others to easily find the download page. Feel free to copy the QR codes on the Version Pages to place on your own website.
Android only at this time. iPhone version is in progress.
SCREEN SHOTS
Easy, Intuitive Interface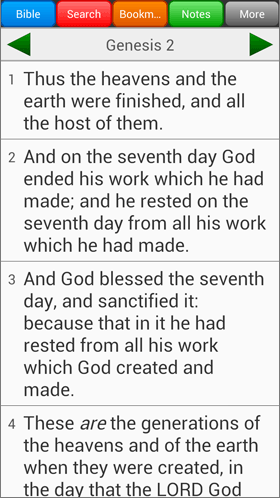 Book and Chapter Selection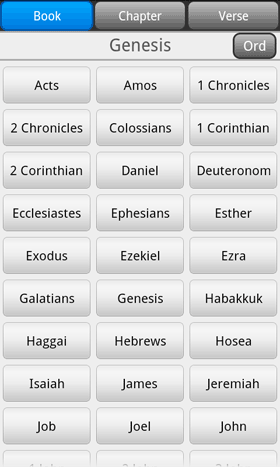 Easy, Powerful Search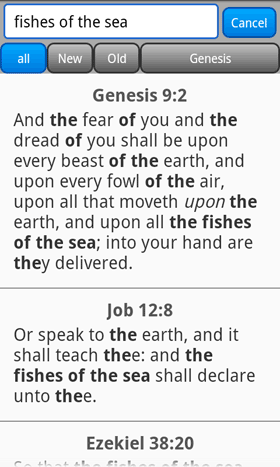 Bookmarks and Annotations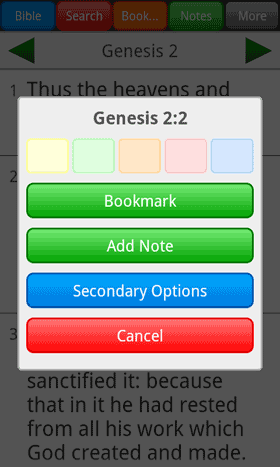 Text to Speech, Scrolling